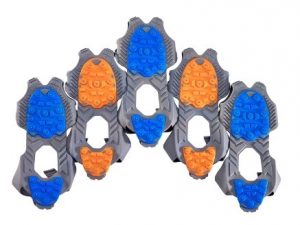 Sure, we send out free trial samples of the ice cleats and traction aids we manufacture to prevent slips and falls on ice and snow.
Samples can be very helpful to safety professionals as they make their decision on what to purchase for their employees. But remember to manage the expectations of that sample.
For instance, having a sample will answer some of the basic questions you may have, such as:
Do they look industrial strength?
Are they easy on/off?
Are they safe to wear indoors?
Are they safe to wear while driving?
Are they safe to wear climbing up and down ladders or machinery?
Are they safe to wear on grated surfaces?
Having free trial samples in hand may not be able to answer other important questions:
Are these winter shoe cleats the best traction aid for your workforce?
Are they durable?
What department(s) would be best suited for this traction aid?
Do you need to offer more than one style of traction aid, due to different employee needs?
Will they create any hazards you haven't anticipated?
Did the manufacturer test the traction aids on ALL walking surfaces your people work on throughout a shift to make sure they aren't creating a potential workplace hazard? (For instance, did they test on concrete, tiles, linoleum, steel, grating, while driving, etc.)
The best way to quickly and accurately address some of these harder-to-answer questions is to do some field trials. If you are unsure about whether a Winter Walking gear sample or a field trial is appropriate for your needs, contact us. We're happy to suggest several options. After all, Winter Walking is North America's largest manufacturer of ice cleats and other winter traction aids designed to reduce slips and falls on winter snow and ice. And we've got 40 years of expertise that we would be happy to share with you!
---

Thank you for reading. If you found value in this post, please consider sharing it with your LinkedIn network or simply "like" it.
Bill Coyne is the VP of Sales for Winter Walking. He has been helping organizations across a wide variety of business sectors prevent workplace slips and falls in ice and snow for over 20 years. Winter Walking currently helps some of the world's largest organizations keep their employees both safer and more productive while working outdoors in the winter season. Contact bill@winterwalking.com or visit www.winterwalking.com.