The Farmer's Almanac has announced their winter forecast and the predictions are officially in. My home town aka The City of Brotherly Love is in for a wild ride from November through March, and many people aren't going to be thrilled with what the Farmer's Almanac says about your area for the 2017-2018 winter.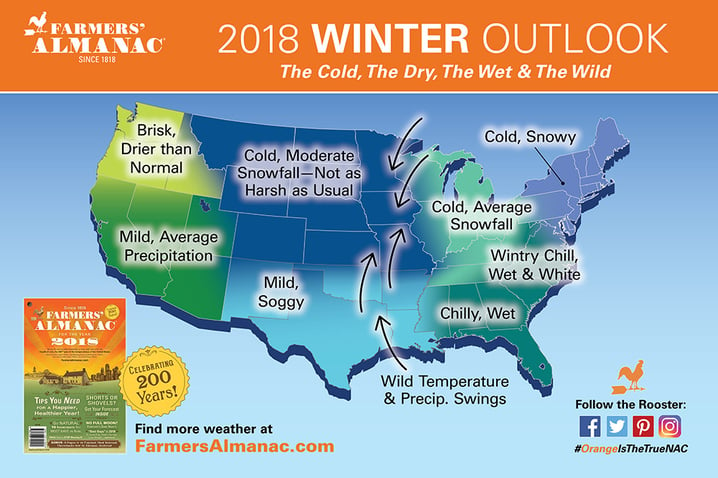 It's that time of year again when safety professionals start asking themselves typical winter questions.
Will the East Coast be prepared for nor'easters and blizzards?

How many are expected?

Do we have our supplies on hand BEFORE they occur?

Will it be bone-chilling cold in the Midwest?
Will we be measuring snowfall by feet or inches near me this winter?
Will we experience any ice storms this season? And how many!
Will the dreaded Polar Vortex return? How long does it last this time?
Should safety professionals rely on the Farmer's Almanac for winter preparedness? After all they claim 80% accuracy! I'll let you decide for yourself. But I must admit sometimes their predictions are very precise. After all we've already have the hurricane (Harvey) they predicted!
You could also choose to wait for your local meteorologist's 2017-2018 long term winter prediction. The biggest problem for educated safety professionals is all long-range weather forecasting is not a perfect science.
Do these predictions help or hurt you and your company when it comes to proactive winter planning?
Should you wait until closer to winter to take the weather reports more seriously? You could, but it's not a great idea.
Why? By then it may be too late – or at least not as easy – to prepare your employees for the inclement weather and prevent winter slip and fall incidents at your workplace.
Our advice is simple: Don't rely on weather predictions when it comes to protecting your workforce and your company safety record. It's just not worth the risk (or perceived money savings). If you live in North America in an area that is prone to winter temperatures (and the resulting ice and snow storms), you should be prepared well before these storms hit your area.
Remember, it's not if winter storms will impact your area, it's when they will. How bad will they be? When does the next storm hit etc...
Having your employees unprepared for working outdoors this winter can be a costly and dangerous – and a potentially career-ending mistake.
Accidents in the workplace are easily preventable with proactive planning. Providing your workforce with the proper ice cleats, traction aids or gritted footwear will give them the best traction and confidence needed when working in ice and snow.
These slip and fall incidents are very expensive and should not be ignored. Some of these can easily run tens of thousands of dollars per injury (source: National Safety Council NSC). These preventable incidents can immediately turn your good safety record into a miserable safety record after just one winter storm.
Filling out incident reports is something no safety professional wants to do for something that could (and should) have been prevented if better planning took place.
Winter predictions can have their place – if they help proactive safety professionals plan accordingly. A word of caution for everyone else: You will have no idea if this winter will normal, mild, SEVERE until after it happens. The time to start planning is now.
Be proactive and make sure you have the shovels, winter parkas, gloves, hats (or toques, if you're in Canada) before the weather hits. And it may not be a bad idea to include the right ice cleats and traction aids to the top of that list too.
---


Thank you for reading. If you found value in this post, please share it with your LinkedIn network or simply "like" it.
Bill Coyne is the VP of Sales for Winter Walking. He has been helping organizations across a wide variety of business sectors eliminate workplace slips and falls in ice and snow for over 17 years. Email bill@winterwalking.com or visit www.winterwalking.com for additional helpful information and resources.