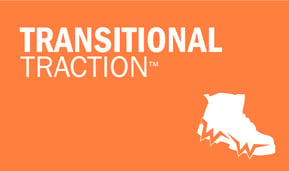 Every safety manager's nightmare may include some winter weather. And it's no wonder – we all know that slips and falls can do serious damage to a perfect safety record.
Now, I'm sure you're well aware that reducing winter slip and fall incidents starts with increasing traction. And increasing traction on snow and ice is easy -- just about any cleated or spiked item that you can find will do the job, right?
True. But the difficult task is to increase traction while allowing employees to do their jobs with minimal interference. After all, what good is traction footwear if it won't allow you do to your job effectively?
Ask yourself:
Do you have to constantly put on and take off your traction aid?
Is your cleat increasing your risk of falling off a ladder to tripping on a carpet?
Will your industrial footwear damage the different flooring materials you encounter throughout the day?
So what's the real key to solving slipping and falling problems? It's being able to transition safely from slippery surfaces to non-slippery surfaces. This is something we call Transitional Traction™.
When you increase your employees' Transitional Traction, you:
Eliminate the possibility that employees will forget to take off their

traction footwear

– or put it back on.

Allow employees to do their jobs with minimal distraction or interruption.
Make your

employees safer

.
Whether you are looking for Transitional Traction or more conventional traction ice cleats, Winter Walking is here to help you determine the right product or products for your workforce.
---

Thank you for reading. If you found value in this post, please consider sharing it with your LinkedIn network or simply "like" it.
Jonathan Bell is President and CEO of Winter Walking. He has been helping organizations across a wide variety of business sectors prevent workplace slips and falls in ice and snow for over 20 years. Winter Walking currently helps some of the world's largest organizations keep their employees both safer and more productive while working outdoors in the winter season. Contact jonathan@winterwalking.com or visit www.winterwalking.com.