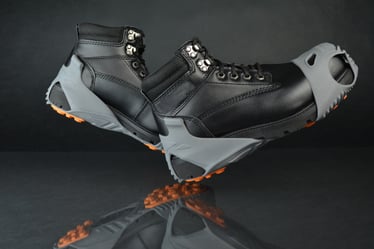 Try Googling the term "ice cleats." Overwhelming, right? And not at all helpful. Most of the results feature the same style of cleat, but with different color spikes.
So what can a busy safety professional do to reduce winter slips and falls, in the ongoing attempt to improve their workplace safety record?
The worst thing he or she can do is pick a traction product like boot cleats for ice at random and hope for the best. All too often, this kind of search ends in disappointment, frustration and a depleted budget.
So, if you want to reduce your employees' winter slips and falls on ice and snow, here are a few key questions to ask now, in order to limit those million+ choices. (This is especially important if you're just starting your search for ice cleats, or you've become frustrated with your current manufacturer or supplier.)
Is the traction aid industrial strength?
(Remember, if you bought it on Amazon, Wal-Mart or any other retail site, it's most likely a consumer item.)
Can workers safely wear snow grippers indoors?
Does the provider offer a full range of sizes to fit all employees?
Can employees wear these cleats while driving vehicles?
Do the cleats provide aggressive traction?
Can they be worn while climbing ladders?
How important are replaceable features?
Is this traction footwear easy on/off?
Having answers to these questions before you start your next search is sure to save you a lot of time, money and aggravation. And remember, we're here to help you narrow the search if you need us.
---

Thank you for reading. If you found value in this post, please share it with your LinkedIn network or simply "like" it.
Bill Coyne is the VP of Sales for Winter Walking. He has been helping organizations across a wide variety of business sectors eliminate workplace slips and falls incidents in ice and snow for over 20 years. Email Bill bill@winterwalking.com or visit www.winterwalking.com for additional helpful information and resources.