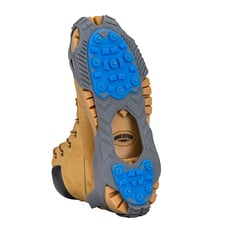 Did you know that every winter slip and fall your employees had could have been prevented? Here's how: Don't allow your employees to walk or work outdoors in the winter months when ice and snow are present.
For most of you, that's impossible, so what's the real solution?
Employees need well-fitted and appropriate winter traction aids to help keep them safe and productive while walking and working outdoors in winter. And let's face it, your safety record will boil down to how seriously you take the threat of snow and ice.
So what would a good winter season look like? Reducing your slips and falls by 30 percent? Not enough? Maybe 50 percent? How about 90 percent?
It's entirely possible to achieve reduction rates that high. But reducing the number of winter slips and falls depends on several factors:
Gathering important information from a slip and fall reduction expert;

Committing the time needed to initiate or maintain an effective slip and fall reduction program within your company;

Training and educating employees on their approved ice cleats and guide them toward the best recommendation for their unique job tasks; and,

Working to continually update and improve your safety program.
While you certainly can't prevent all your employees from venturing outdoors this winter, you can do something to keep them safe – and productive – while they're out there. And it all starts with proper planning and product selection to reduce the risks associated with snow and ice.
---

Thank you for reading. If you found value in this post, please consider sharing it with your LinkedIn network or simply "like" it.
Bill Coyne is the VP of Sales for Winter Walking. He has been helping organizations across a wide variety of business sectors prevent workplace slips and falls in ice and snow for over 14 years. Winter Walking currently helps some of the world's largest organizations keep their employees both safer and more productive while working outdoors in the winter season. Contact bill@winterwalking.com or visit www.winterwalking.com.