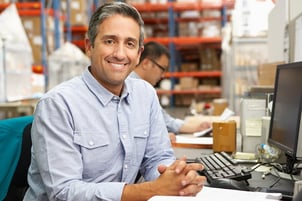 I have young kids at home. Every night, they eat dinner. Sometimes they eat their dinner early and sometimes it's late. But every night they eat. So what would happen if I waited until they were starving to feed them. And at that point I said, "Okay, just spot me a few hours. I have to go to the market, buy some ingredients, come home, look up a recipe and then cook you dinner. Sound good, kids?" Just the thought of the ensuing tantrums is enough to ensure that this scenario never unfolds in my home.
Why do I share this anecdote? Because establishing your ice cleat program is a lot like making sure your kids don't throw tantrums - or starve.
Even when you know exactly which ice cleats you prefer, implementing a traction aid program cannot be done on a whim. In fact, making ice cleats available is often a time-consuming, in-house process. This process can include establishing price via RFQs, the creation of internal part numbers, determining how to stock them, writing usage guidelines, training the field and many, many more steps. The process can take anywhere from a week to a month to a year, depending on how your organization operates.
My advice:
Use the winter to evaluate your winter safety program and test new technologies. Do not use your winter to implement a program from scratch. This is why it's so important to finish out the winter knowing exactly what you want next winter's program to look like. Don't collect the feedback in March and then wait until October to implement. Do it now. Create those part numbers. Establish your pricing. Set your stock levels.
The point is that when next winter begins, you want your slip and fall program to be a done deal. Winter will be back again before you know it – and so will the threat of slips and falls on snow and ice. It's better to prepare now while it's fresh in your mind. It's just like my kids: I know they're going to get hungry at some point, so better to handle the prep work now, before the tantrums take over and it's too late.
---


Thank you for reading. If you found value in this post, please consider sharing it with your LinkedIn network or simply "like" it.
Jordan Bell is the Executive Vice President for Winter Walking. He has been helping organizations across a wide variety of business sectors prevent workplace slips and falls in ice and snow for over 20 years. Winter Walking currently helps some of the world's largest organizations keep their employees both safer and more productive while working outdoors in the winter season. Contact jordan@winterwalking.com or visit www.winterwalking.com.