Far and away, the most common complaint we hear is that people hate taking their ice cleats on and off throughout the day, especially when they walk from outside to inside frequently.
Who can blame them?
Winter slips and falls on snow and ice are often the number one cause of record-able incidents. While ice cleats seem like an obvious solution to reduce accidents, there are two realities that complicate the issue:
1) Most jobs do not exist exclusively on ice and snow.
2) Most ice cleats are good at one thing and one thing only – increase traction on ice and snow.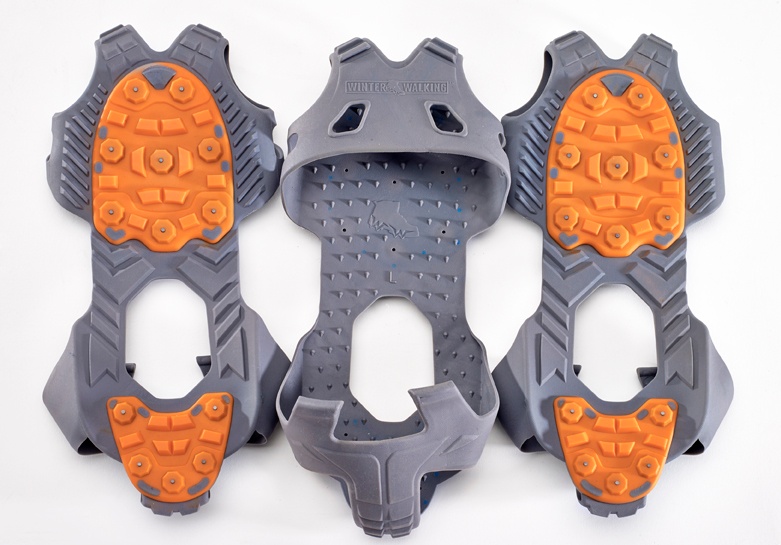 If you believe that using ice cleats is a key element in reducing winter slips and falls, you are left with two options: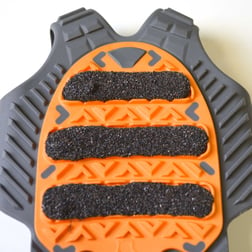 1) Find an ice cleat that is easy to put on and take off.
2) Find an ice cleat that can be kept on through out the day, both inside and out.


If you want to focus on finding an ice cleat that is easy to take on and off, look for specific design features that will assist with this task, such as dual pull tabs. Pull tabs are the portion of stretch ice cleats that sit behind the heel, giving the user something to grab on to after inserting their toe. Some considerations:
If an ice cleat doesn't feature a pull tab behind the heel, it should be removed from use.
If an ice cleat features a single pull tab that narrows the heel opening when being pulled, it's actually making the device more difficult to put on.
Dual pull tabs allow the user to use two hands, in order to open the heel up wide for easy on and off.
If you would rather find an ice cleat that does not have to come off every time you walk inside, there is an effective option. TRANSITIONAL TRACTION® ice cleats, not only increase traction on ice and snow but also provide enough versatility to be safer than any other ice cleat to simply leave on inside.
Just because your workers may have had a bad experience with one ice cleat, do not risk your safety record by assuming they will have the same problem with all ice cleats.
---

Thank you for reading. If you found value in this post, please consider sharing it with your LinkedIn network or simply "like" it.
Jordan Bell is the President of Winter Walking. He has been helping organizations across a wide variety of business sectors prevent workplace slips and falls in ice and snow for over 20 years. Winter Walking currently helps some of the world's largest organizations keep their employees both safer and more productive while working outdoors in the winter season. Contact jordan@winterwalking.com or visit www.winterwalking.com.