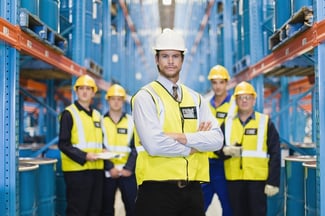 Recently, I recalled a disturbing conversation I had with a Senior Safety Manager at a large company. He had expressed his frustration to me that after working so hard to establish a winter ice cleat program, he was still having trouble getting his employees to participate. Despite his ongoing effort to improve the company safety record by preventing slips, trips and falls in ice and snow, it was just not a priority for others in his organization.
I told him that, in my experience, the best run safety programs all have one key component in common: unwavering support from management.
It's natural for people to resist change, especially when they are being told what to do. But when it comes to improving safety culture, it's critical that workers realize that the guidelines, regulations and policies exist for their benefit.
If a Safety Manager implements a program, whether it be for ice cleats and winter traction grips, or any other safe practice, and the rest of the management team is ambivalent in their support, the workforce will pick up on it. Inevitably, this will create resistance towards the program.
Once you can get your management team in alliance, all of the questions, doubts, complaints and complacency will disappear. Along with your slips and falls.
---

Thank you for reading. If you found value in this post, please consider sharing it with your LinkedIn network or simply "like" it.
Jonathan Bell is President and CEO of Winter Walking. He has been helping organizations across a wide variety of business sectors prevent workplace slips and falls in ice and snow for over 20 years. Winter Walking currently helps some of the world's largest organizations keep their employees both safer and more productive while working outdoors in the winter season. Contact jonathan@winterwalking.com or visit www.winterwalking.com.