Good question! Most PPE that you deal with as a safety professional has some sort of third-party anti-slip regulation that guides you in your decision making. Whether that standard comes from ANSI, OSHA or CSA, etc., there is typically some predetermined barometer for gauging whether the specific PPE you are considering has "passed the test." This is true for everything from gloves and hard hats to steel toe boots and even indoor slip-resistant footwear.
But when it comes to ice cleats and traction aids, there are NO STANDARDS. Why is that?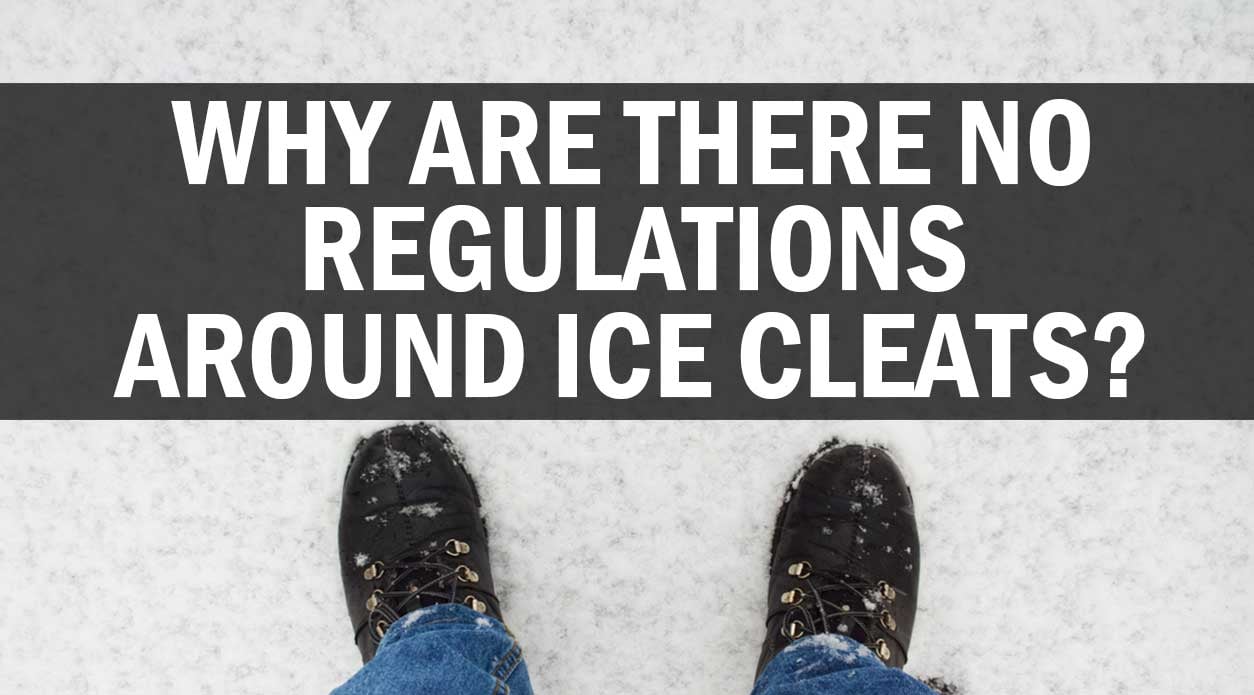 The simple answer is that there are simply too many variables when it comes to creating traction on ice and snow. No two icy or snowy surfaces are the same and there are a lot of fall risk factors.
• Some are pure ice.
• Some are intermittent ice.
• Some are black ice.
• Some are snow on top of ice.
• Some have ice on top of snow.
• Some are on inclines.
• Some are on declines.
OK, you get the picture. Creating anti-slip regulations, at least to this point, is just too challenging. The bigger question is: How does the absence of regulations affect you as a safety professional? Well, that's where this gets really tricky. Like it or not, determining what ice cleats are safe to wear falls squarely on the shoulders of you, the safety professional.
Now, add in this factor – not all ice cleats are created equal!
• Some ice cleats are meant for walking the dog and shoveling the driveway.
• Some are meant for ice fishing.
• Some are disposable.
• Some – the ones YOU are looking for – are meant for industrial job tasks.
Don't be fooled into thinking that any ice cleat will do with all fall risk factors. With no standards and no regulations defining the difference between the right traction aid and the wrong one, this responsibility falls on you.
The good news is that you don't have to become an expert in ice cleats, because we already are. The first step to finding the right ice cleat is realizing how important your role is in the process and what your fall risk factors are. Once you understand that we are here to help.
---

Thank you for reading. If you found value in this post, please consider sharing it with your LinkedIn network or simply "like" it.
Jordan Bell is the President of Winter Walking. He has been helping organizations across a wide variety of business sectors prevent workplace slips and falls in ice and snow for over 20 years. Winter Walking currently helps some of the world's largest organizations keep their employees both safer and more productive while working outdoors in the winter season. Contact jordan@winterwalking.com or visit www.winterwalking.com.