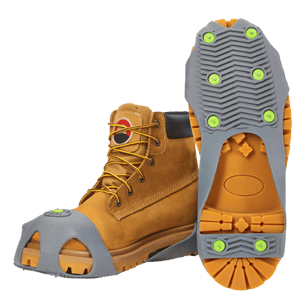 Customers have so many choices when it comes to ice cleats and traction aids to prevent winter slips and falls. Sometimes these devices look similar. And sometimes they look radically different. But most of them have at least one very important thing in common: By far, the safest winter traction aids on the market are devices that offer traction in both the heel and toe of the device.
As you walk, your heel hits the ground first, so additional ice and snow boot traction aids are needed. Following that, your foot rolls forward and your toe hits the ground. Without traction in both the heel and toe, you – and your employees – are at a significantly higher risk for a slip and fall on snow and ice.
Traction aid designs and styles vary greatly. The range includes overshoes, stretch devices, half devices and strap devices, boot ice spikes, among countless others. The less material that's used for the body of the device, the less it costs to manufacture. Sometimes the less material used makes the item easy to be put on and taken off.
Ask yourself, why am I buying this traction aid? Most likely, you answer is, "to prevent slips and falls" on ice and snow. This means traction is the most important factor to you. After traction, the ease with which the device can be put on/taken off is probably the second most important factor.
If your traction aids do not provide full-sole traction (heel and toe), they aren't providing as much protection as they could. This leaves your employees at a higher risk of slipping and falling.
So take a look at the traction aids your employees use and answer these two questions:
Is there any portion of the normal boot sole exposed that doesn't have part of the traction aid covering it?
Is any portion of either the heel or the front of the foot exposed as the primary (or only) traction?
If you answered YES to either of these questions, your people are at an increased risk for slips and falls. We can help you remedy that.
---

Thank you for reading. If you found value in this post, please consider sharing it with your LinkedIn network or simply "like" it.
Bill Coyne is the VP of Sales for Winter Walking. He has been helping organizations across a wide variety of business sectors prevent workplace slips and falls in ice and snow for over 14 years. Winter Walking currently helps some of the world's largest organizations keep their employees both safer and more productive while working outdoors in the winter season. Contact bill@winterwalking.com or visit www.winterwalking.com.