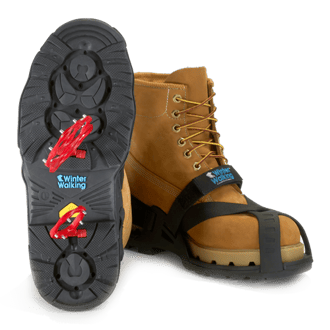 If you're bored one day, type "ice cleats" into your preferred search engine. How many results do you get? Hundreds of thousands.
So why does this matter? Well, it means ice cleats are popular. Would they be as prevalent today if they didn't work? Interesting question. Let's look into this:
If you analyze the 800,000 results you'll find from your Google search, you will quickly uncover two major obstacles that make investing in ice cleats a difficult decision for any safety professional:
Most ice cleats are good at one thing only: Increasing traction on ice and snow.


Not all ice cleats are created equal

, yet there are no objective guidelines to help you understand the difference.
When shopping for an ice cleat for the workplace, the question to ask yourself is not "do ice cleats work?" but rather, "what ELSE do I need from an ice cleat other than just traction?"
Do you need to keep the ice cleat on while transitioning inside to outside?
Do you want to wear it while driving?
Do you want it to also provide warmth, or keep your feet dry, or last at least an entire winter?
So, yes, ice cleats work. But you need to make a list of everything else you need an ice cleat to do and then you can figure out the more important question: Which ice cleat will work for you?
---


Thank you for reading. If you found value in this post, please consider sharing it with your LinkedIn network or simply "like" it.
Jordan Bell is the Executive Vice President for Winter Walking. He has been helping organizations across a wide variety of business sectors prevent workplace slips and falls in ice and snow for over 13 years. Winter Walking currently helps some of the world's largest organizations keep their employees both safer and more productive while working outdoors in the winter season. Contact jordan@winterwalking.com or visit www.winterwalking.com.