I like to tell a story about one of my many, reluctant trips to Costco. I was there on my day off, walking around the massive store with my short list of things to buy. As I'm filling my cart with 1,000 paper plates, I came across something that stopped me dead in my tracks. A display of ice cleats.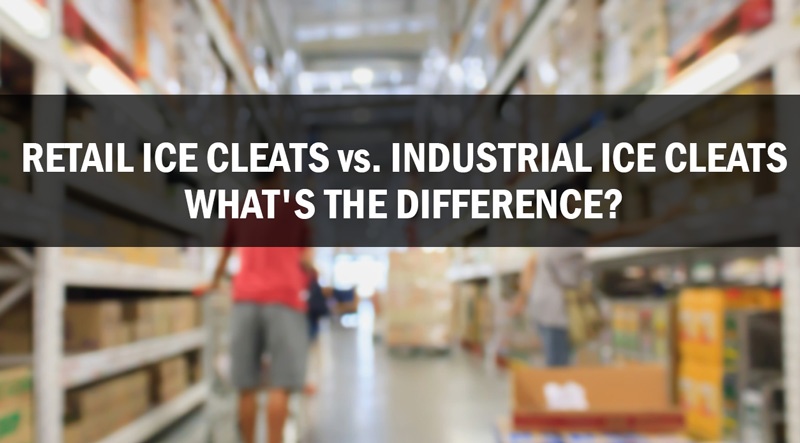 Now this is my line of work. I can quickly recognize these for what they are; a low cost solution to a temporary problem. These types of ice cleats may be effective for someone who shovels their driveway three times a year or walks their dog in the snow a few times each winter. But I know full well the kind of mayhem that can occur if one were to buy ice cleats that are this cheap and this poorly made for a work environment. The kind that may save you pennies but cost you thousands in the long run.
So the advice is this:
While looking to buy ice cleats online – or comparing products anywhere else for that matter – remember that huge retailers like Costco and Amazon deal on price, not durability. And this is the enemy of responsible safety professionals everywhere. Especially those in cold climates.
Plus, as you know, when cheap ice cleats break, you have to replace them. Which may just cost you more than if you were to buy ice cleats that are high quality and right for the job in the first place. Remember that old saying, if it's too good to be true, it probably is?
It's easy to overspend when you forget to factor durability and quality into the equation. Cheapest price = lowest quality. Especially when searching online for ice cleats and comparing products.
Oh, and if you're wondering... yes, I still have plenty of paper plates.
---

If you found value in this post, please click the "SHARE" button or simply "LIKE" it. Thank you for reading.
Bill Coyne is the VP of Sales for Winter Walking. He has been helping organizations across a wide variety of business sectors eliminate workplace slips and falls incidents in ice and snow for over 15 years. Email Bill bill@winterwalking.com or visit www.winterwalking.com for additional helpful information and resources.