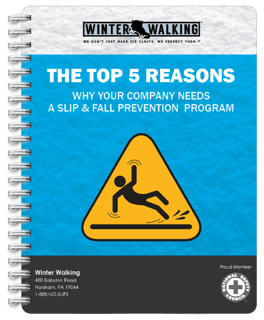 Today, most companies are smart enough to know that providing a slip and fall safety program creates savings in multiple areas. The recovery time, lost work time, and increased workers' comp premiums are all reasons to ensure that your employees have all the necessary equipment and procedures to prevent slip and fall accidents.
Read on to determine if your company is at a high-risk for slip and fall accidents, and learn how Winter Walking can provide you with a turn-key solution to prevent workplace slip and fall related accidents.
You Are Reactive And Not Proactive About Slip And Fall Prevention.
Einstein may have said it best when he defined insanity as "doing the same thing over and over again and expecting different results." But I'll leave you with my own take on it: "You don't need to be a genius to make smarter decisions, but you must have a plan." Do you think about your employees' safety before or after a slip and fall incident?
Do any of these scenarios sound familiar?
After a slip and fall incident, you purchased ice cleats but regretted the choice.
You felt "rushed" into the decision and didn't have the time to research properly.
You purchased traction aids at a big-box retailer, but your employees complained they couldn't wear them indoors… or the cleats keep falling off… or they broke… or they take too long to put on.
To break that reactive cycle, you need to have a plan. Start by figuring out what features are most important when choosing the right ice treads for shoes to dramatically reduce slips and falls on winter ice and snow. (More important, while compiling your list of must-have features, consider the people who need to wear them!)
---
Download the rest of the guide "The Top 5 Reasons Why Your Company Needs A Slip and Fall Prevention Program" at the link below.